2020602         6th June 2020 
Our club belongs to Rotary District 9650
Please join us next week for our next meeting.
Time: Thursday June 11, 2020 at 07:00 PM
https://us02web.zoom.us/j/87147306244
We are a Rotary Club made up of Rotarians from all over Australia. We meet on-line to coordinate service projects and enjoy fellowship with like-minded Rotarians, and in these difficult days of COVID-19, we are acting as a lighthouse Club by continuing to meet on line regularly.
Our meetings are held using  ZOOM.
We meet on the 2nd and 4th Thursday of the month and face to face as required.
President John writes:
The meeting of the 14th of May was another great meet together. Our Guest Speaker Diana Reynolds delivered a very well prepared address on youth protection. Diana is a very good friend of the E-Club and she made a special trip to explain the requirements. Tanika has the Clubs full compliance documentation. There was the usual banter but we took positive decisions and approved a donation of $1000 to The Rotary Foundation and $500 to the Governor's Partners Project, Lifeline.
Our next meeting on 28th May will be a Dinner Meeting suggested by Warren and what a great idea, a meeting with a difference for us. We will have our meals prepared and ready for a 7.00 PM start.  Of course, your choice of menu and style.  There is some debate in the Barwick household as to what the menu will be. I am suggesting a nice thick scotch fillet however the kitchen supervisor is pressing for some chicken dish.  You will see who wins.  A special note for John Boag, dinner  does not mean a 2 litre container of ice cream.  Warren may not be able to join us as you will see from the note below.
Dorothy and I have distributed the eight $250 pre paid cards to very worthy farming families.  When we made our visits we were able to take a large quantity of toiletries to the families.  Past Assistant Governor Dimity Betts had a quantity of goods delivered to  her and we were able to make the distribution.  The families were overwhelmed with the support we have delivered. Many of the goods came from business houses and Rotary Clubs as far away as Western Australia.
We also delivered toiletry packs this week to Ronald MacDonald House in Tamworth.  These were also by courtesy of Dimity Betts.  The House Manager Steve Martin was very grateful for the delivery.  He is a member of Tamworth First Light Rotary Club and will be our Guest Speak at our meeting on the 11th of June.
Warren is in the John Hunter Hospital at Newcastle with a severe ear infection.  This is a medical affliction that he has had in the past.  It has reoccurred and Sue is very concerned.  He is on a drip at the present to try and clear the problem. Our best wishes to Warren and Sue during this worrying time.  I will keep the members informed.
Covid 19 restrictions are slowly being relaxed and we may still be able to have a face to face Changeover.  Ken and I are closely watching the health directives and we will make a decision later and may be able to give some indication as to what direction we will go with the Changeover at the scheduled meeting on June 11th.
Very best wishes to all as we negotiate this very difficult time in our lives, keep safe.
On the 30th May 2020 the District Governor Nominating Committee met to interview the applicants for the position of District Governor for the Rotary year 2022 – 23 for District 9660 (the new district).
The nominating committee comprised of the current District Governors, and members from both Districts 9650 & 9670 and was chaired by PDG Stephen Hill from District 9710.
I am pleased to announce that the successful applicant was PDG Neville Parsons from the Rotary Club of Wauchope.
Saturday 27 Jun 2020
District Changeover at Laurieton – still to be decided how this will be held.
3 principles we use to beat the pandemic
By Joe Otin, governor of Rotary District 9212
If ever in our lifetime there was a defining moment of earth-shattering proportions – this is it. The generation before us lived through World War II which universally altered the course of our destiny. From time immemorial our predecessors have faced seismic economic collapses, devastating armed conflict, climatic catastrophes, and other traumatic incidences that have led to desperation, death and destruction.
These developments in turn have forced us to remodel personal behaviour, restructure established institutions, and generally change our way of life.
The attack on humanity by the coronavirus is monumental. From the initial outbreak in China to today, the world has been jolted into action because the initial strides taken by governments to stop the spread of COVID-19 across the globe fell short, as the statistics have come to show. Here in East Africa, our governments took unprecedented action, closing borders, grounding national carriers, and suspending public meetings with the intention to halt its advance.
What distinguishes defining moments in our history is not the nature of the crisis, but rather the quality of the decisions that we make. In the wake of the drastic measures taken by our political leaders to address the outbreak we, as Rotary, have had our own decisions to make. These decisions are guided by three simple principles.
The first one is that individual action has the greatest bearing on the disease, and this includes personal hygiene, social distancing, and other guidelines outlined by the World Health Organization. We must all take  individual responsibility to stop the spread of coronavirus.
The second is to support the government in its initiatives to flatten the curve as indeed it is the concerted effort by the private sector, public institutions, development organizations, and society as a whole that will stop this threat.
Thirdly, it is in sharing messages of hope and reminding people that together we will prevail, and that the disruption in our lives is not only momentary but it is also a crucial part of continuity.
From a global perspective, Rotary International's Board of Directors has cancelled the international convention scheduled in June as the conditions amid the crisis are not projected to be favorable for hosting an event of this magnitude. This is the first time in history that the annual convention has been canceled altogether, and even through the World Wars the convention was convened, albeit smaller in scale. The Board has also decided to focus attention and assign resources to fight the pandemic. Funds from the reserves have been allocated to aid the disaster response initiatives across the world, and The Rotary Foundations has embarked on fundraising activities specific to this area.
World Immunization Week: Rotary's focus on Disease Prevention and Treatment
Now more than ever, we recognise the importance of effective vaccines to protect against disease. As scientists work to develop one to protect all of us from the new coronavirus, we recognise how far we have come this World Immunisation Week. This 24-30 April, encourage everyone to immunise their children and themselves against preventable diseases.
The Rotary Foundation has a long history of funding disease prevention and treatment projects that focus on health issues that impact vulnerable communities, like our polio eradication efforts. Successes in these areas have helped us address other global health challenges, including the spread of the coronavirus. Learn how our work fighting polio is supporting the COVID-19 response in communities worldwide.
It's important that we continue funding these projects when our help is needed most. Although this pandemic affects all of us, Rotarians like you continue to take action even in a time of crisis. If you are able to make a donation during World Immunisation Week, give to our PolioPlus Fund to support polio eradication efforts and more, or give to our Disaster Response Fund to support our work addressing this pandemic and other emergencies. You'll be helping to empower Rotarians so that we can keep Doing Good in the World now and in the years to come.
Stay safe in this time of uncertainty.
OUR COMMITTEE FOR 2018-2019
PRESIDENT-PDG John Barwick
SECRETARY- Tanika Douglas
TREASURER-Justin Baiocchi
EXECUTIVE SECRETARY- PDG Ken Hall
FOUNDATION- PDG Barry Hacker
MEMBERSHIP-Dorothy Barwick.
Mark Daniel Maloney
President, Rotary International 2019-20 writes:
I am excited to share some good news: Rotary International and Toastmasters International are working together to provide our members with even more opportunities for personal and professional growth.
Toastmasters International is a global nonprofit organization with more than 16,800 clubs in 143 countries. Its members attend club meetings where they give speeches, evaluate the speeches of others, and perform other club duties, with the goal of ultimately becoming more confident speakers, communicators, and leaders. Our organizations are complementary in many ways, but we are each unique in what we offer our members.
I hope you will join us in supporting this alliance in your community. You can start by
learning more about Toastmasters, exploring its 
resources and 
public speaking tips, or visiting
 a local Toastmasters club. Although the structure of club meetings is consistent, Toastmaster clubs are similar to Rotary clubs in that they each have their own personality. If you do not have a club in your area, you can watch a video to learn 
what happens at a Toastmasters meeting.
You can also invite members of Toastmasters to visit your club and learn more about Rotary. If you have a Toastmasters club in your area, consider meeting with its members to explore opportunities to collaborate or inviting a member of Toastmasters to participate in a service activity or speak at your club.
Toastmasters will create a leadership development program for Rotarians and Rotaractors. A structured, robust leadership and communication curriculum can help members develop practical skills that will serve them not only in Rotary leadership roles, but in their professional and personal lives as well. Effective leadership skills can strengthen our clubs and increase our impact. We will provide updates about this program when we have more details.
Many of us joined Rotary to make a difference and connect with others in our communities. By working with Toastmasters, our members can discover new ways to network and learn from others, while finding even more value in their Rotary membership experience.
Learn more by reviewing these
frequently asked questions. You can also send your questions and your stories about local collaboration efforts to toastmastersalliance@rotary.org.
Rotary members celebrate World Polio Day
In honor of World Polio Day, Rotary members around the world rallied their clubs and communities to support the fight to end polio forever. More than 4,000 clubs in 136 countries organized more than 5,900 events to raise awareness and funds for polio eradication. Club events included art celebrations, athletic challenges, dance festivals, and educational initiatives.
  An independent commission of experts announced on World Polio Day, 24 October, that wild poliovirus type 3 has been eradicated worldwide. It is the second strain of poliovirus to be wiped out, after wild poliovirus type 2 was certified as eradicated in 2015. Type 3 was last detected in northern Nigeria in 2012. Since then, the strength and reach of the polio eradication program's global surveillance system has been critical in verifying that the strain is truly gone. Investing in staffing, innovative tools, and a global network of laboratories helped us determine that type 3 is no longer a threat.
Global leaders convened at the 
Reaching the Last Mile Forum in Abu Dhabi, United Arab Emirates, on 19 November to affirm their commitment to eradicating polio. Pledges from governments, philanthropic organizations, and the private sector totaled $2.6 billion as part of the first phase of the funding needed to implement the 
Polio Endgame Strategy 2019-2023 of the Global Polio Eradication Initiative (GPEI). In addition to overcoming barriers to reaching every child, this funding will ensure that the resources and infrastructure built by Rotary and its partners can support other health services now and in the future.
In the news
In recognition of World Polio Day, the 
Daily Nigerian highlighted Rotary members' dedication to keeping Nigeria free of the wild poliovirus. In the Philippines, where Rotary International began its commitment to protecting children from polio, 
CNN Philippines featured interviews with Rotary members and coverage of their World Polio Day events.

 

Carol Pandak, director of Rotary's PolioPlus program, spoke with 
Reuters about the eradication of wild poliovirus type 3. She also spoke with 
The Wall Street Journal about Rotary's commitment to polio eradication, noting our efforts in Pakistan to provide clean water and address other health needs in order to improve vaccination rates.
For the eighth year, Rotary International General Secretary 
John Hewko and a team of staff members joined Rotary members from District 5500 and around the world in cycling up to 100 miles in El Tour de Tucson to raise funds for polio eradication. Natasha Wrae, the Rotary member who led the effort for District 5500, details her Rotary community's enthusiasm for the annual event in an interview with the 
Arizona Daily Star.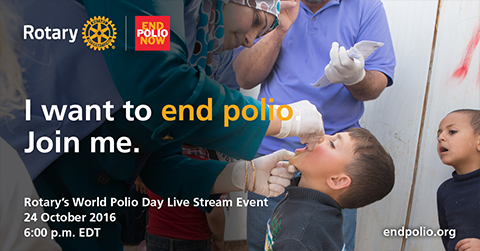 How your year-end gift to the Foundation does a world of good!
There's still time to make your year-end gift to The Rotary Foundation. Here are a few ways that your support is helping to change lives all over the world:
Educating children: Rotary members in Maine, USA, and Rajasthan, India, are using a global grant to educate hundreds of children in the city of Bikaner who previously were not attending school, and to provide professional development for their teachers., which also provided desks for the students through an earlier grant.
Fighting disease: Rotary members in California, USA, and Sinkor, Monrovia, Liberia, are using Foundation grant money to train health care workers in techniques to prevent mother-to-child transmission of HIV and to improve their ability to diagnose and treat infected women. The success of the project is measured in lives saved. Read more about the vocational training team's efforts.
Growing local economies: In the Esmeraldas Province of Ecuador, Rotary members have teamed up with a microfinance organization to provide small loans to poor women, teaching them to sew and bake so they can start or expand businesses. Global grant funds provide seed money for microloans and buy sewing and baking equipment for a training centre where the women learn vocational skills and basic business management. Learn more about the project.
Ending polio: In 2015, wild poliovirus transmission declined to its lowest level ever, with fewer cases reported from fewer areas in fewer countries than ever before. As of 15 December, only 66 cases of the disease caused by the wild poliovirus had been reported in the two remaining endemic countries, Afghanistan and Pakistan. Gifts from Rotary members have funded the immunization activities that are helping us reach our goal of a polio-free world. And every dollar that Rotary commits to polio eradication is matched 2-to-1 by the Bill & Melinda Gates Foundation, tripling your impact.
Before the collapse of the Soviet Union in the early 1990s, Russian was the predominant second language offered in Polish schools, leaving tens of thousands of Polish emigrants without the English skills they needed.
That has changed over the last 25 years. English proficiency drastically improved after the government reformed its education system in 1991. The country overhauled its teaching curriculum and materials and introduced English as the primary foreign language. As of 2013, Poland ranks 8th in the world in English proficiency.
However, one segment of the population isn't reaping the benefits of the improved curriculum. Thousands of students in poor rural villages attend schools that don't have the adequate resources or well trained personnel to properly teach English, putting them at a disadvantage in today's global economy and labor market, says Anna Wieczorek, a Rotary Club of Warszawa City member and author of Poland's English curriculum for grades 1-3.
"The budgets of state schools in rural areas are limited compared to those in the cities and private schools," Wieczorek says. "Teachers in these schools are often underpaid and undertrained. Consequently, the level of teaching English is far from meeting the appropriate standards."
Added to that, she says, their students face social exclusion. "They lack the self-confidence and communication skills that students in the city, who have access to modern technology, might have," she says. "The inability to learn English — let alone acquire an appropriate education — early on in their lives makes it difficult for them to evolve and develop further in life."
Many of the students come from homes where unemployment and alcoholism are common, according to a report by the CASE Foundation, prepared for the Warsaw Delegation of the European Commission. Many turn their attention to the streets and crime instead of education, the report says.
Rotary gives rural communities support
The Warszawa City members the Rotary Club of Berlin-Luftbrücke, Germany, and the Rotary Club of Milano Nord, Italy, are trying to change this trend. A $45,000 Rotary global grant project is supporting English and other foreign language education for more than 1,200 underprivileged students in 10 rural communities. The clubs collaborated with Good Start, a program that provides equipment, software, and an interactive e-learning platform for afterschool education centers, as well as training for tutors.
Eleven centers are now equipped with computers, interactive white boards, projectors, multimedia, and printed learning materials. The three clubs, along with the Rotary Club of Edmonton Downtown, Alberta, Canada, have furnished 12 other afterschool centers over the last three years in conjunction with previous Rotary Foundation grants, bringing the total to 23. Each dayroom is supervised by a local Rotary member.
Before the project, the centers would generally be empty after school. They only provided desks and chairs. With the new technology, interactive classes, and motivated instructors, the students now have an "attractive way to learn," Wieczorek says.
Wieczorek, who also authors children's books, writes the e-learning software and curriculum. "We are not only teaching English, but we're improving their reading, writing, and computer skills," she says. "They have a safe place to spend their free time after school. This makes a big difference in their daily lives and will help them define their future."
According to a 2013 global language study from Education First, countries with higher levels of English proficiency also have stronger economies and their citizens have higher per capita income levels and quality of life. More and more multinational companies are mandating English as their common corporate language.
The study also suggests that because English is the predominant language in business, higher education, and politics, English proficiency is important to succeeding in a globalized society. And low proficiency in English may be connected with weak integration into the global economy.
Gerhart Ernst, a Berlin-Luftbrücke Rotary member, says since his club was chartered in 1979, members have focused their efforts on supporting young people from disadvantaged homes. Their partnership with the Polish club is something they are especially proud of.
Ernst says his club wants to mimic this project in areas in Germany with a large number of refugees from Syria and Lebanon.
In March, members of the Warszawa City club visited one of the centers while an English class was in session. "It brought tears to my eyes to see these children so happy and engaged," says Wieczorek. "These kids have dreams about getting away from the poverty and affliction. We're doing all we can to make these dreams come true."
How close are we to a polio-free world? What's needed to finish the job? Can we make history together?
Watch our third annual World Polio Day webcast for a global status update on the fight to end polio and take part in the conversation.
Time magazine Senior Editor Jeffrey Kluger is our moderator, and UNICEF Executive Director Anthony Lake is a keynote speaker. The webcast features appearances by Emmy Award-winner Archie Panjabi, Grammy Award-winner Angelique Kidjo, actress Kristen Bell, WWE Superstar John Cena, The Doctors co-host Dr. Jennifer Berman, CDC Polio Eradication Branch Chief John Vertefeuille, and other special guests.
Help us make history today. Share your voice online, advocate with your government, or create your own World Polio Day event. Download the resources below to get started.
Take Part
No child anywhere should suffer from this completely preventable disease. As little as 60 cents worth of vaccine can protect against polio. We need your voice to end polio now. Download the resources below to join us and make an impact on World Polio Day.
Rotary and ShelterBox support Syrian refugees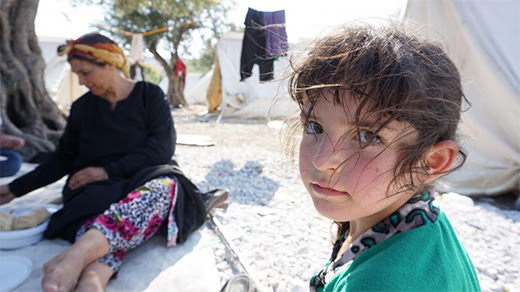 In Syria, where a civil war has been raging since 2011, more than 6,000 people flee the country every day. As of September, more than 4.1 million people have become refugees, and 7.6 million more have been internally displaced.
"The plight of Syria's refugees is a litmus test for the world's compassion," says Rotary International General Secretary John Hewko. "Rotary members worldwide are profoundly disheartened by the refugee crisis now unfolding in Syria and other parts of the world," which the United Nations has described as the worst in decades.
"Rotary is following the situation closely," Hewko says. "We know our members have an inherent desire to act, to relieve the suffering and uncertainty that displaced individuals and families are facing. We call on you to respond as Rotarians have for more than 100 years: to use your professional skills and acumen, leverage your connections to other leaders, and mobilize your local communities to provide the necessary resources and funding to address the humanitarian crisis."
Rotary members can donate to the disaster relief efforts of our project partner ShelterBox. The organization has supported the Syrian relief effort for nearly four years and is working with other agencies to continue distributing relief materials. ShelterBox is also working with communities in Greece to provide aid and supplies to displaced people passing through the region.
Rachel Harvey, a member of a ShelterBox response team that recently returned from Greece, says Syrian refugees are making dangerous crossings to the shores of Greece.
As many as 2,000 people arrive daily on Lesbos' northern beaches, says Harvey, referring to a Greek island in the Aegean Sea off the Turkish coast. The trip from Turkey to Greece usually takes about an hour and a half. "The flimsy rubber dinghies are invariably overcrowded, and the majority of passengers can't swim," she says.
Harvey adds: "The experience is terrifying. Another trauma added to the layers that many of the displaced have accumulated through war in Syria or South Sudan, insecurity in Afghanistan or Pakistan. One man told me: 'It was a nightmare. I don't know how we got through that trip,' " she says.
Says Hewko: "We appreciate our clubs and members for their support, helping the millions of displaced people find shelter and rebuild their lives and communities. Every refugee is in our hearts and minds."
Nigeria declared polio-free, removed from endemic list

The World Health Organization (WHO) announced on 25 September that Nigeria is now polio-free and has been officially removed from the list of countries where polio is endemic. It's been 14 months since any cases of polio caused by the wild virus have been detected there.
With Nigeria's historic achievement, polio remains endemic in only two countries: Afghanistan and Pakistan. That means transmission of the virus has never been stopped there.
Nigeria was the last country in Africa where polio was endemic.
The continent celebrated its own first full year without the disease on 11 August. Once three years have passed without a case in WHO's entire African region, officials will certify polio eradicated there.
"Rotary congratulates Nigeria on its tremendous accomplishment in stopping polio," says RI President K.R. Ravindran. "On behalf of the entire Global Polio Eradication Initiative (GPEI), we thank volunteers, health workers, and parents in communities across Nigeria for their tireless commitment to ensuring every last child is protected against this devastating disease. In the months ahead, their dedication will remain as important as ever, as we work to keep Nigeria polio-free and to eliminate polio from its final strongholds in Pakistan and Afghanistan."
Nigeria's success is the result of several sustained efforts, including domestic and international financing, the commitment of thousands of health workers, and new strategies that reached children who had not previously been immunized because of a lack of security in the country's northern states.
Type 2 poliovirus gone for good
In other encouraging news, an independent global health commission officially verified on 21 September that wild poliovirus type 2, one of three strains of the wild virus, has been eradicated worldwide. Although the last type 2 case was detected back in 1999, the confirmation is an important milestone, as Rotary and its partners in the Global Polio Eradication Initiative prepare to switch from a form of the vaccine that targets all polio types to one that does not protect against type 2.
The announcement by the Global Commission for the Certification of Poliomyelitis Eradication confirms that only two strains of the wild poliovirus remain. Of those, type 3 wild poliovirus hasn't been detected in almost three years, and wild poliovirus type 1 is endemic only in Afghanistan and Pakistan.
Funding increase needed to reach final goal
On 25 September, the GPEI's Polio Oversight Board met to determine the next steps needed to eradicate polio. The group concluded that $1.5 billion in new funding is needed to help Rotary and its partners end polio in the next few years. With Nigeria now polio-free, spending will focus on the most vulnerable children in Afghanistan and Pakistan, while continuing to shield millions of children already living in polio-free countries.
"With a fully funded program and global commitment to ending this disease, we have the opportunity to interrupt transmission of the wild poliovirus in Pakistan and Afghanistan in 2016, opening the door for certification of a global eradication in 2019," says Michael K. McGovern, chair of Rotary's International PolioPlus Committee. "With [Rotary members'] continued support, we will soon see our dream of a polio-free world realized."
Hi Everyone,
What a wonderful September! This month we had a special opportunity to stretch your generosity even further through support of some local schools in need. Read below about the St Jude's book donations improving education beyond our school gates.
Within the gates, our own students continue to excel, with two secondary students winning a national science competition and another impressing at a continent-wide leadership workshop.
It has been a month of community and student development, I hope you enjoy reading about it!
Gemma
Have you seen our new DVD?

Order 1 or 1000 copies online

and we'll deliver to your door for free.

'Captain Victor' is ready for take-off

Veritable ladies' man Victor is a master of languages; at age 8, he is top of his grade in English and Kiswahili. He is also number one in computer class and science!
Science is Victor's favorite subject and when he grows up he wants to be a pilot.
Why? "So I can go to all the places I want to go to," he said.
Victor needs your sponsorship! Find out more »

For full details check on the Makeup Tab on the Front Page
Rotary International News Feed

 We have a powerful story to tell, and it's up to all of us to protect, promote, and deliver our message in all of our interactions. By speaking, writing, and designing in a unified voice and look, we ensure that our communications are unmistakably Rotary.Applying a consistent and clear Rotary style in all of our communications is vital to strengthening our image and enhancing our reputation as a world-class organization.
See here to learn about membership of our e9650

My Rotary

Be a Gift to the World through the Avenues of ServiceRI President K.R. Ravindran challenges us to use our gifts — talents, knowledge, abilities, and efforts — to make an impact through our service, the backbone of club activity. Through our network, we have access to many resources that enable us to plan and carry out effective, sustainable projects. Here are a few examples of service activities with ongoing impact:

 

 
 
Presidential conference series
 
 
Five events to highlight Rotary's areas of focusRI President K.R. Ravindran and Rotary Foundation Trustee Chair Ray Klinginsmith plan to host a series of five presidential conferences in 2015-16 highlighting Rotary's work in the areas of focus. All the conferences will be led by local Rotary districts and are open to nonmembers as well as Rotary members. The conferences will feature engaging speakers, informative general sessions, and hands-on workshops. Attendees will have the opportunity to network with fellow leaders and take away new ideas and strategies. Learn about each program and register at the conference websites.
Put your service skills to work with Rotary groups
 
 
Rotarian Action Groups and Rotary Fellowships offer range of opportunitiesEach of our 22 Rotarian Action Groups has a unique area of expertise related to one of Rotary's six areas of focus, ready to assist clubs and districts with related service projects. Join one and share your expertise and passion with others.Rotary also has more than 60 Rotary Fellowships, which enable our members to pursue their interests and connect with new friends in Rotary all over the world. While most Rotarians join fellowships related to hobbies, the service opportunities these groups offer keep their members especially active and engaged in Rotary.Rotarian Action Groups and Rotary Fellowships are organized by the Rotary family for the Rotary family. Rotarians, Rotaractors, their spouses, and Rotary program participants and alumni are invited to join.